There are not many problems with being a dog but there are some. As a dog who is also a blogger I need a bit of help with getting my paws around the keyboard as I am sure you will understand. Anyway over the last few months a lot has happened. We all went travelling and Bonnie and I were in Dog Shows in Denmark and Germany. I wanted to tell you about everything. I was waiting at the computer. I had lots to write and guess what Peter wanted to go for a walk. Well, we are dogs and you don't have to mention walks twice! We also can't be expected to think about writing a blog when we get back. So that is why it has been so long between posts.
The Danish dog show was on the island of Bornholm. We had to get in the car and travel for ages and ages. Bonnie and I were put in a cage in the back of the car. It was a bit small. Anyway we drove through the night and arrived somewhere at the very top of Germany. From there we got a ferry to Bornholm. They, our people, had been talking about camping for a while but Bonnie and I had no idea what that meant. We found out that night it means sleeping in tents. This was really good and we tried to behave ourselves as best we could at the campsite. We did bark occasionally but not without good reason.
The dog show was the next day in the main town on Bornholm. We all, especially the people, expected great things. When we arrived at the show the owners of the local dogs all looked at us intensely. I think they may have been a bit scarred of us. They needn't have worried. We did not do well at all. The judge was very expert. I believe he was an important dog breeder who bred corgis and was very influential in the Danish Kennel Club. Myself and another really nice cardigan who was from the local town were described as "very good". The other cardigans belonged to important Danish breeders and they were all described as "excellent" by the judge. I guess he knew them better than us. Bonnie got an excellent certificate when she was shown which was very good.
The next day they had another dog show in the same place. I thought I might do better as there was a different judge. I was described as "excellent" and awarded second place in my class. Usually at dog shows you have to get first place in order to get a chance to get a CACIB (This is an award for beauty) or for a best of breed award. In Denmark they have a different rule where any dog which is described as excellent can go for this. The problem was that no-one had told us about this and they did not point out that we should be in the ring when the comparison was happening. Our people did not find out about this until they went to collect documents with the Judge's description. There were told then that we were a no-show. This caused a lot of upset among our people who thought we were cheated.
This dog show ended on Sunday and the next dog show was on the following Saturday and Sunday. We spent the time in between traveling all over the place and camping. We were in Denmark, Sweden, Denmark again and then Germany. Finally we arrived in Leipzig where the second dog show was held.
The Dog show in Leipzig was big, very big. I think it is one of the most important dog shows in Germany. There were a lot of people there and an incredible amount of dogs. One of the things which Bonnie and like to do at these shows is just go around and sniff the butts of some of the other dogs. We did not expect to do so well in this show. We were wrong.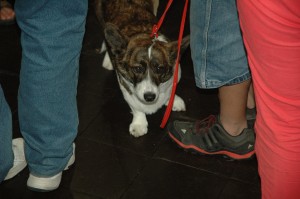 The first day was the international show. I did OK being described by the judge as excellent but Bonnie won "best of breed" for the Pembroke Corgis. Our people were also surprised by how well this show was run and how friendly everyone was. They were also remarking to each other about how 'fair' they thought it was.
We had a bit of a celebration in the town of Leipzig that night and the next day was the German show. Bonnie got excellent again, as I am sure you would expect. However, I got best of breed and was given an award which said I was a German champion. I was pleased as punch but I don't even know how to bark in German.