In a couple of months Bonnie, myself, our cat Sasza and our humans will be moving to our new home. Bonnie and I have been there a lot as we have had to check progress on how the house was being built. We currently have a small garden and in the new house will have a very big garden. This makes me very happy.
As you probably know from my blog I can be a bit of worrier from time to time. Everything seems to be fine with the new house. The humans talk a lot about something called money. Bonnie though that this was what the house is built of but I understand it is something which humans get for staring at computer screens from companies such as Solitaire Corporation. They then use this to buy dog food, cat food and other stuff like the stuff which is used to build houses. I will let the humans worry about this. My worry is about moving the cat.
Our new house is actually two houses. There is a big house and a garage with a flat on top. There is already one of our humans living there. On two occasions Sasza has been brought there. She hid under the bed for most of the time. This seems to be typical behaviour for a cat.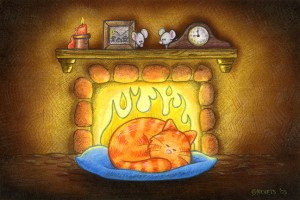 In the middle of the room there is a machine where humans burn wood and other stuff. This machine gives off heat into the room and it seems to be a very clever device. Sasza has informed Bonnie and I that this a "Giant Cat Warming Machine". She says that this is a very good thing. Bonnie told us that there is an even bigger "Giant Cat Warming Machine" in the big house. Sasza may have been very pleased to hear this but she is a cat and pretends to be cool about everything. She just said OK. I think she will like this new house with its "Giant Cat Warming Machine" and I am bit less worried about the move.